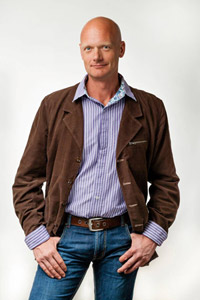 Jonathan Peters, Ph.D. is an international professional keynote speaker, trainer, author, and copywriter. He believes that change in inevitable, adaption is vital, but success is optional. He works with those who pursue the option of success.
Communication has been core to Jonathan's pursuits, first as a writer and professor, and later as a marketer and professional speaker. His current pursuits center on how leaders, marketers, and salespeople can utilize persuasive elements and new technologies to not only inspire, but also to compel people to action.
Jonathan noticed that when people apply past techniques and models to current environments, they fail. He refers to this tendency as "Caveman Ways." He helps individuals and companies leave these old methods behind as they adapt to new approaches and mechanisms.
For instance, his book, Cavemen Can't Market, shows how some companies continue club prospects with their pitches. They fail to realize that in the current era, consumers are in charge. Consumers, sales teams, employees – anyone we're trying to reach – must now be "wooed."
Jonathan keeps an active speaking and training schedule. He delivers more than 150 speeches and training events a year, before thousands of people from Augusta, Maine to Melbourne, Australia. He also coaches organizations and individuals on how to reach their audiences, prospects, and employees.
His entertaining, energetic, edgy, and enlightening style not only makes learning fun and inspiring, but also memorable and applicable.
Jonathan Peters, Ph.D. lives in Las Vegas.